Otto-Bock Shoulder Support
-
Features:
Elastic shoulder support provides warmth and a conforming fit
Product Overview:
Otto-Bock Shoulder Support
Made of 1/8" (3.2mm) Thermoprene™. Use to treat inflammation, pain or mild instabilities of the shoulder joint. D-ring attachment in front allows easy donning and doffing. Elastic strap helps prevent discomfort and pinching under the opposite arm. Sleeve opening allows for a custom fit. Hand wash, air dry. Latex free. Fits either the left or right shoulder. To size, measure the arm/chest width and arm circumference at the largest part of the biceps.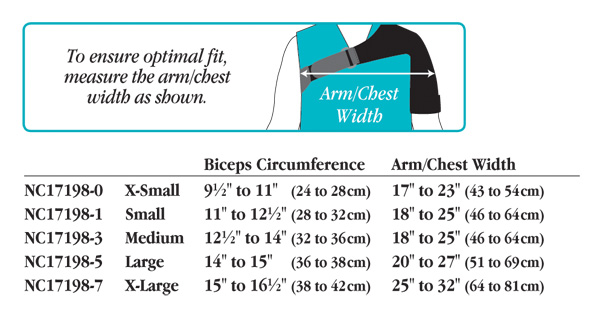 Otto-Bock Shoulder Support Reviews Summary
Allegro Medical does not endorse, recommend or sponsor any customer product reviews, ideas or advice.
3 out of 3 recommended this product to their friends
by
Laurie super active mom
from
Lake Oswego, Oregon
Yes, I would recommend this to a friend
1 person found this review helpful
Pros:
Comfortable for wearer.
by
Judy caregiver
from
Charlotte NC
Yes, I would recommend this to a friend
Otto-Bock Shoulder Support

Ask the community about this product and get answers. Share your knowledge and advice.

Learn More about Q&A.

Learn about Q&A

Q&A allows customers to interact with one another in asking product specific questions and receiving answers from knowledgeable fellow customers and staff experts. Unlike the lengthy one-to-one support media such as email, phone, or live chat, Q&A captures those conversations and insights by displaying them directly on the product detail page - for all future customers to see. A single answer now aids multiple customers.

Would this product be effective for stabilizing a fractured clavicle?

Asked on

Sep 27, 2015 7:17:24 PM

by

Kathy

from

Greenville, NC

1 people had the same question

|

Does this supply support to the humerus bone?

Asked on

Jul 31, 2011 8:53:20 AM

by

Old Fisherman

from

Northport,NY

2 people had the same question

|
Part Number(s): 712 0052 05, 712 0052 03, 712 0052 04, 712 0052 01, 712 0052 02
Mfg Part Number(s): NC17198-1, NC17198-3, NC17198-5, NC17198-7, NC17198-0
Scrip Part Number(s): 712 0052 01, 712 0052 02, 712 0052 03, 712 0052 04, 712 0052 05